Thursday, October 1, 2015 - 4:00pm to Friday, October 2, 2015 - 6:00pm
Widener Lecture Room
University of Pennsylvania Museum of Archaeology and Anthropology
3260 South Street
University of Pennsylvania, Philadelphia, PA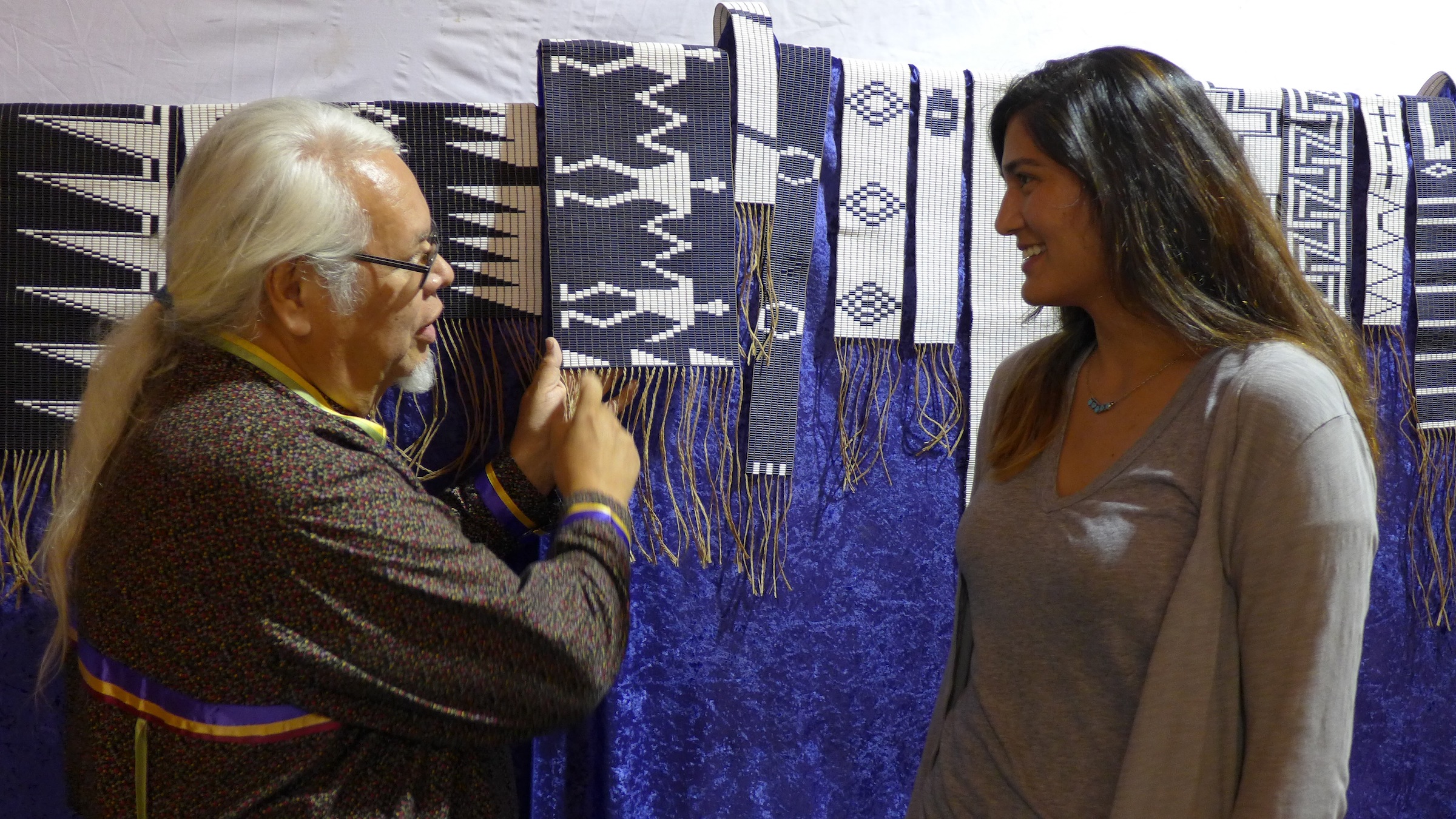 WOVEN WORDS:
New Insights Into Wampum Diplomacy and Native Studies
Thursday October 1 from 4-9pm, and Friday October 2 from 9am-5pm
The Native American and Indigenous Studies Initiative at Penn (NAIS) will host a two-day conference on 
Thursday and Friday, October 1-2, 2015, focusing on histories 
of wampum artistry, diplomacy, and research. This event will 
feature presentations by prominent Indigenous scholars from
 the US and Canada, sharing insights on historical and contemporary 
aspects of wampum construction, artistic expression, and cultural
 exchange. Members of the Penn "Wampum Trail" research team will also share insights on wampum 
in museum collections. Featuring modern reproductions of historic wampum belts, cultural performance, and Haudenosaunee 
social dance.


Invited speakers include: 
• Richard W. Hill Sr. (Tuscarora), Coordinator of Deyohaha:ge Indigenous Knowledge Centre at Six Nations in Ohsweken, Ontario.
• Darren Bonaparte (Akwesasne Mohawk), Wampum artisan, historian, and author of The Wampum Chronicles.
• Alan Corbiere (Anishinaabe), Coordinator of the Anishinaabemowin Revitalization Program at M'Chigeeng First Nation.
• Kahente Horn-Miller (Kahnawake Mohawk), School of Canadian Studies, Carleton University.
• Lisa Brooks (Abenaki), Chair of the Five College Native American & Indigenous Studies Committee, Amherst College.
• Christine Abrams (Tonawanda Seneca), Chair of the Haudenosaunee Standing Committee on Burial Rules & Regulations.
PLUS the Native North American Traveling College Dance Troupe from Akwesasne.
A detailed schedule will be available soon. This event is free and open to the public.
Other Highlights:
• Fur trader and leatherworker Mark Humpal will have modern reproduction wampum strings, belts, and books available for sale.
• Penn graduate student researchers Stephanie Mach and Lise Puyo from the Wampum Trail project will present findings from their museum research.
• Thursday evening will feature a reception and social with traditional Haudenosaunee music and dance.
Sponsors include: 
American Philosophical Society, University of Pennsylvania School of Arts and Sciences, Department of Anthropology, Natives at Penn, the Provost's Office, 
the Penn Museum, and the Penn Cultural Heritage Center.
• • • CLICK HERE FOR FULL SCHEDULE OF EVENTS • • •