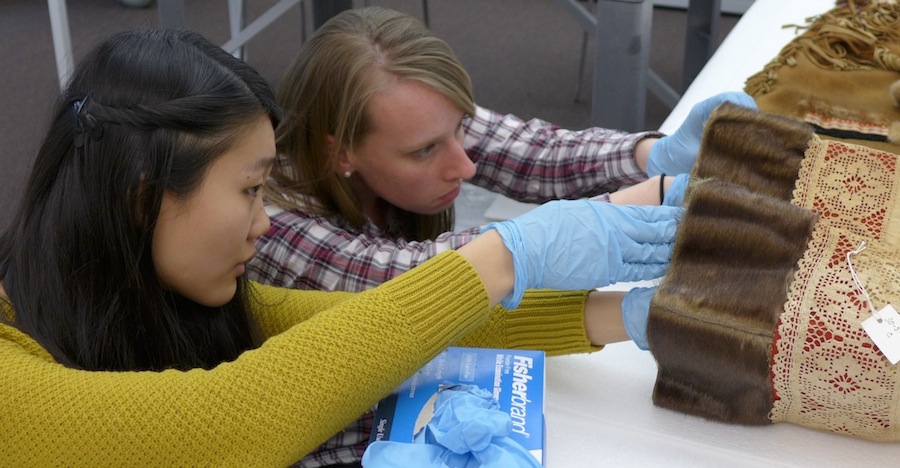 This semester, students in Professor Margaret Bruchac's Anthropology of Museums class learned new methods for analyzing objects in museum collections by using both "deep description" and "object reflexivity." Students were trained to combine material analysis, ethnographic data, archival research, and critical scholarship to identify and document object histories. They also gained practice in examining methods of construction, curation, and display that reflect the shifting historical relations among Indigenous people and Indigenous objects in museums. As a result, these students generated thoughtful insights that cast new light on old objects in the University of Pennsylvania Museum of Archaeology and Anthropology.
As a result of applying these research methods, all of my Museum Anthropology students—Michele Belluomini, Monica Fenton, Alexandria Mitchem, Sarah Parkinson, Elizabeth Peng, Pauline Saribas, and Enika Selby—were remarkably successful in recovering new (and old) data about seemingly silent museum objects. Each of them wrote insightful research reports and blog posts summarizing their observations, while posing new research questions that have yet to be answered. Watch for these intriguing blogs in forthcoming posts from "Behind the Gallery Walls."
For more details, see the following blog posts in the Penn Museum Blog: Behind the Gallery Walls.
Margaret Bruchac: The Speck Connection: Recovering Histories of Indigenous Objects
Margaret Bruchac: Mackosi'kwe's Baskets: Marking Relationships
Monica Fenton: One Fan's Long and Winding Road to the Penn Museum
Sarah Parkinson: Sound and Motion in Museum Objects: Cherokee Stomp Dance Ankle Band Rattles
Elizabeth Peng: Potato Stamps and Ash Splints: A Narrative of Process and Exchange