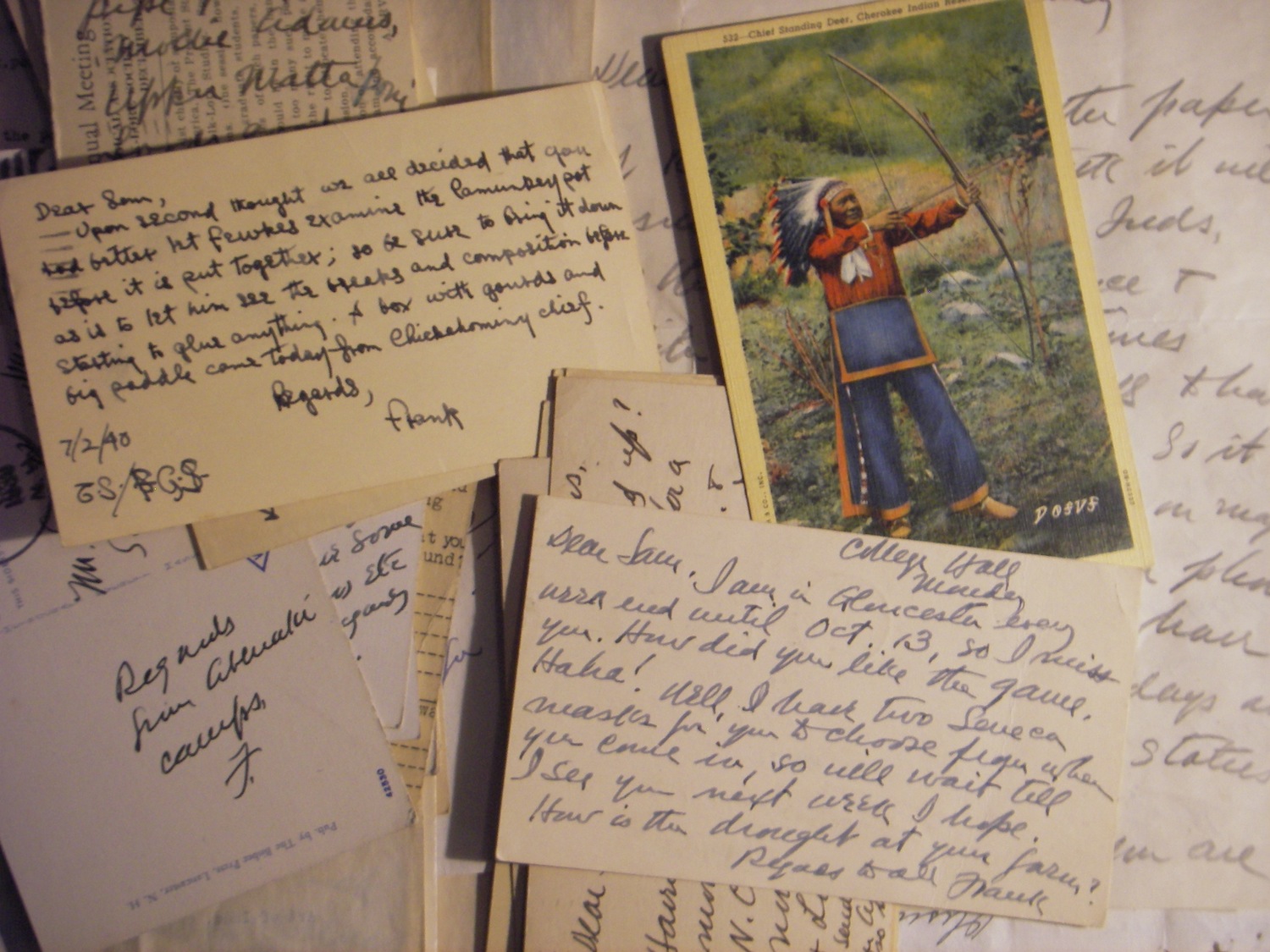 Frank Gouldsmith Speck (1881–1950), acknowledged as one of the most prolific anthropologists of the early 20th century, served as chair of the Department of Anthropology at the University of Pennsylvania for nearly four decades (1913–1949). He conducted ground-breaking ethnographic research and amassed thousands of objects, working closely with Indigenous informants from a wide range of communities (Cherokee, Haudenosaunee, Mohegan, Nanticoke, Penobscot, etc.). His collections contain seminal data on tribal nations, languages, material, and customs.
Acts of collecting have long been central to the anthropological project, originally conceived as a large-scale rescue of what was presumed to be rapidly vanishing Indigenous material and data. The physical challenges of this enterprise were considerable: collectors had to travel great distances, navigate unfamiliar landscapes, communicate in foreign languages, and map the territory, while also endeavoring to identify fixed social, geographical, and political boundaries between tribal individuals and nations. This project would have been utterly impossible without the collaboration of Indigenous informants from multiple tribal nations. In the annals of anthropological archives, these Native guides and gatekeepers were rarely accorded credit as intellectual collaborators; instead, their voices, images, and contributions were catalogued as yet more collectibles. 
Collecting was rarely a simple matter of discovering and recovering objects in an orderly fashion; collections resulted from idiosyncratic relations among individuals that included selective manipulations of heritage and negotiations of value. In the case of the Frank Speck collections (which are surprisingly well-documented), additional data can often be found in letters that explain how and why Native informants selected specific kinds of items and knowledges to send to the museum. Speck's relations with his Native informants were complicated. These people were not, as might be imagined, passive and politically naïve subjects patiently waiting to be discovered; they often had access to culturally authentic knowledges and objects and were willing to interface with non-Native collectors. Some of the most productive informants consciously sought out anthropologists and offered their services as interlocutors. Those who held formal positions of knowledge and authority as faithkeepers or chiefs strove to mediate anthropological relations in ways that could help their kin and communities. Other cases were not quite so clear; the most vulnerable informants were the elderly, infirm, lonely, and desperate. They would sell a story for some friendly companionship, some songs for a bottle, a beaded belt for a loaf of bread. For example, when Speck spotted a desired painted caribou coat on the back of an old Naskapi hunter, he traded his own brown wool coat for it. When Mohegan elder Cynthia Fowler was starving, Speck purchased the single thing of value she still owned – a strand of wampum  beads. When Witapanox'we was ill and impoverished, Speck helped out his old Delaware friend by purchasing his ritual regalia, feathers and peyote wands. When Cherokee traditionalist Will West Long needed some extra money, he parted with his book of medicinal formulas. 
Finding aids in multiple archives identify Speck as having Native American ancestry, and as having been raised by a Mohegan Indian elder. Yet, new research in tribal, library, museum, and institutional archives has uncovered primary documentation that calls these claims into question. It is crucial, therefore, to conceptually re-examine and reconcile his network of social and professional relations, as a means to recover more factual data about the man, his informants, their collaborations, and the resulting collections.
The "Speck Connection" project, directed by Professor Margaret Bruchac and funded by the University Research Foundation, is designed to digitally re-assemble these materials as a means to recover and share factual data about the man, his informants, and their collaborations. A new forthcoming website and database will include detailed summaries of collections, alongside commentary from Indigenous communities, considering the impact and resonance of these historic ethnographic encounters.
For a sneak preview of the applied aspects of this research, see
 "The Speck Connection: Recovering Histories of Indigenous Objects" on the Penn Museum Blog, "Beyond the Gallery Walls."