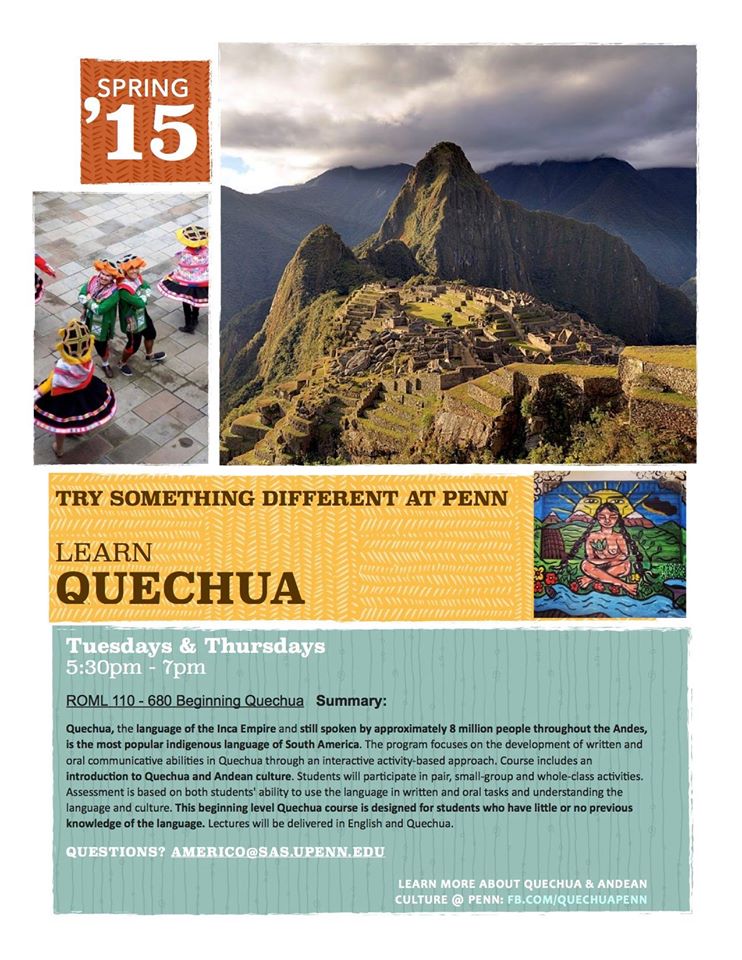 Quechua Language Classes at Penn, Spring 2015
In Spring 2015, Visiting Professor Americo Mendoza-Mori will be teaching introductory and secondary courses in Quechua, the language of the Indigenous people of the Andes. Mendoza is hosted by the department of Romance Languages in the School of Arts and Science at Penn. Quechua, the most popular language of the Andea, is still spoken by approximately 8 million people. Mendoza's courses focus on the development of both written and oral communication, through an interactive approach that includes pair, small-group, and whole-class activities. 
Quechua I, the beginning level class, is designed for students who have little or no previous knowledge of the language, region, or culture. Lectures will be delivered in English and Quechua, and the course includes an introduction to Quechua and Andean culture. Quechua II, the secondary level course, is for students who have already taken Quechua I. .
ROML-110-680: Elementary Quechua I meets on Tuesdays from 5:30-7pm
ROML-120-680: Elementary Quechua II meets on Mondays and Wednesdays from 5:30-7pm
For more information, email Americo Mendoza-Mori at: americo@sas.upenn.edu
Quechua Cultural Events: Quechua Penn is a new initiative, based at the University of Pennsylvania, that aims to promote understanding of Quechua language and Andean culture in southeastern Pennsylvania, through college courses, social events, cultural performances, academic lectures, etc. On November 13, the group held a Quechua Cultural night with Candy Hurtado from Kuyayky. Students had the opportunity to learn about, and participate in, Andean dances. The event was sponsored by La Casa Latina: Center for Hispanic Excellence at Penn. Students from the regional consortium---Swarthmore, Bryn Mawr, Haverford, and Temple---are also encouraged to participate in courses and other activities sponsored by Quechua Penn and La Casa Latina.
For more information on Quechua and Andean courses and events, see: Quechua Penn
For more information on Hispanic programs and events at Penn, see: The Center for Hispanic Excellence: La Casa Latina
NAIS Faculty: Additional information on Quechua language, and insights on processes of bilingualism, ethnography and language policy, and Indigenous language revitalization, can be found in the work of Professor Nancy H. Hornberger in the Graduate School of Education at Penn. She researches, lectures, teaches, and consults on multilingual education policy and practice in the United States, the Andes (Peru, Bolivia, and Ecuador), Brazil, and other parts of the world. One of her long-term projects is "Quechua Language and Literacy in the Urban Andean Highlands," an ethnography of communication in urban contexts of the Andes.